HDPE bottles recycling line with sorting, crusher and color sorting, hot washing and dry function
Product Detail
Product Tags
HDPE bottles washing line layout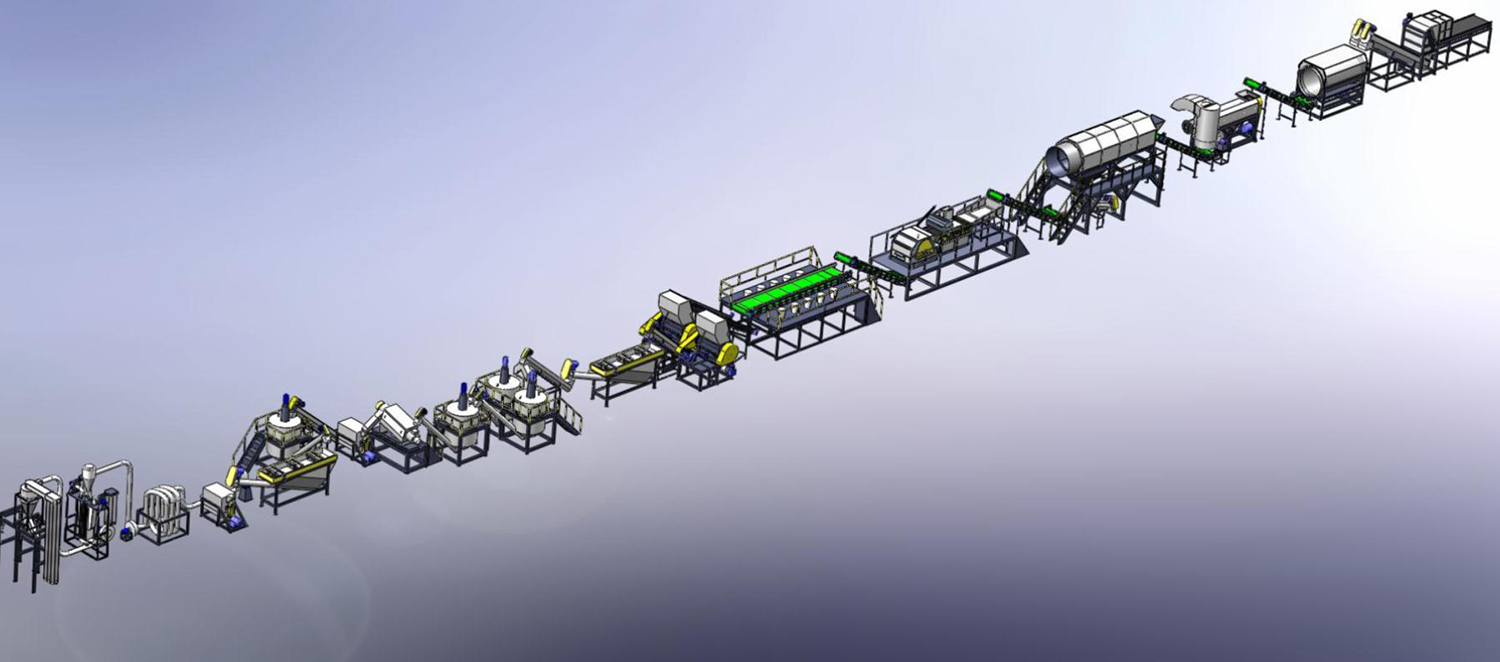 1 Chain plate charger
2 Bale opener(4shaft)
3 Magnetic separator
4 Belt conveyer
5 Trommel separator
6 Belt conveyer
7 Prewasher
8 Water filter screen
9 Water tank
10 Belt conveyer
11 Manual sorting platform
12 Belt conveyer
13 PSJ1200 Crusher
14 Horizontal screw charger
15 Screw charger
16 Medium speed friction washing
17 Washing tank A
18 High speed friction washing
19 Screw charger
20 Hot washing
21 High speed friction washing
22 Water filtering system with alkali dosing device
23 Screw charger
24 Hot washing machine
25 Dewatering and wind transmission
26 Hot washing machine
27 High speed friction washing
28 Screw charger
29 Washing tank B
30 Medium speed friction washing
31 Dewatering machine
32 Hot pipe dryer
33 Label separator
34 Label separator
35 Electric cabinet
1.Bale opener
New design, with four shaft effectively open the PE bottles bales Body plate thickness:30mm, made by carbon steel anti-wear replaceable blades, two sides with blocking bolt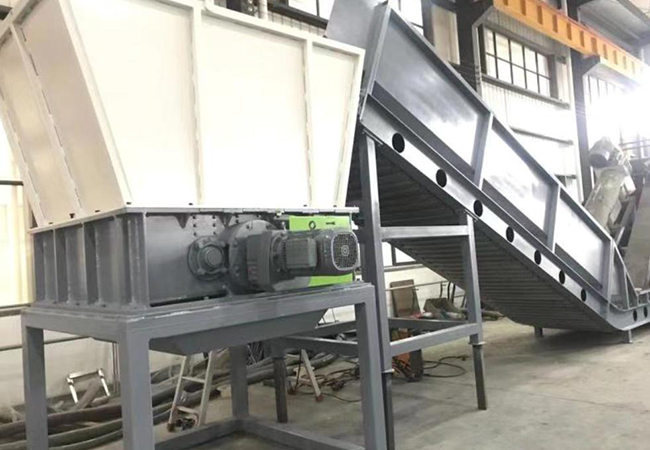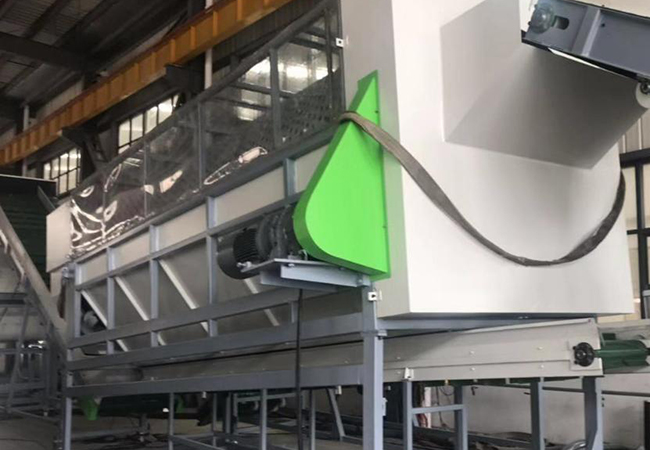 2.Trommel
To screen out the stones, dust, small metals, and loos the caps and materials.
3.Middle speed Friction washing
To friction wash the tiny dirty stick on the flakes, such as the labels etc.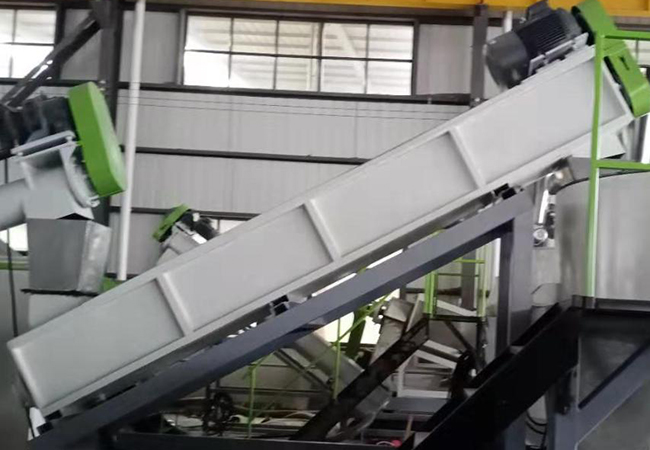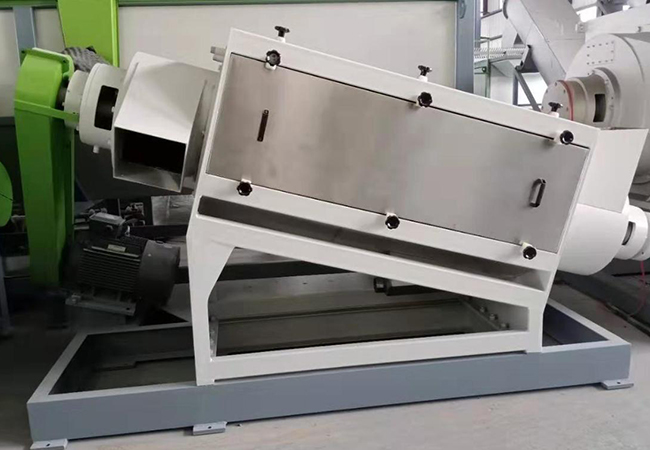 4.High speed Friction washing
● To friction wash the flakes and throw out the dirty
● Rotation speed: 1200rpm
● The parts contact material is stainless steel or anti-rust treatment,
● Water tank water pump
5.Dewatering machine
It can remove water, tiny scraps and sand to reach moisture 1%. The blades are welded with Anti-wear alloy.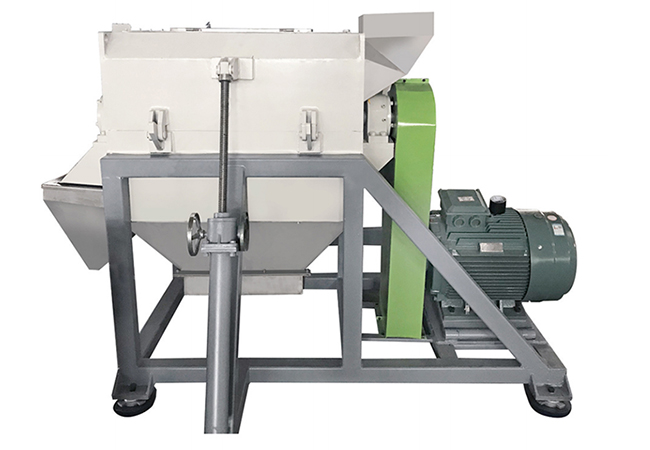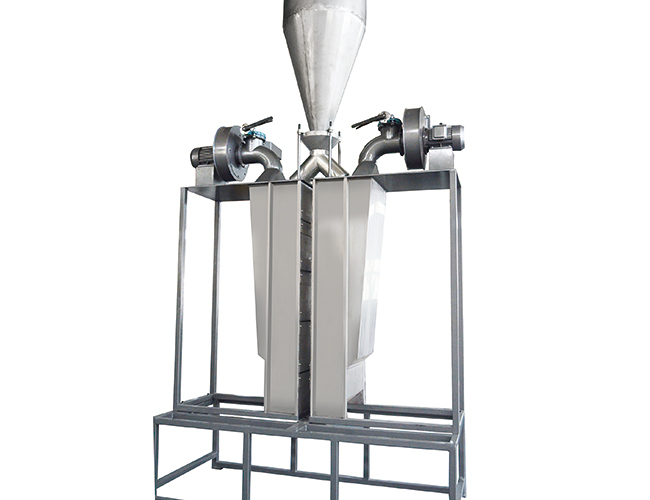 6.Bottle flakes labels separator
Effectively remove the crushed labels mixed in the bottles flakes.
The washing line consumption:
| | |
| --- | --- |
| Items | Average consumption |
| Electricity(kwh) | 170 |
| Steam (kg) | 510 |
| Washing detergent (kg/ton) | 5 |
| Water | 2 |
PE washing line quality and specification
| | | | | | |
| --- | --- | --- | --- | --- | --- |
| Capacity(kg/h) | Power installed(kW) | Required space(M2) | Labour | Steam requirement(kg/h) | Water consumption(M3/h) |
| 1000 | 490 | 730 | 5 | 510 | 2.1 |
| 2000 | 680 | 880 | 6 | 790 | 2.9 |
| 3000 | 890 | 1020 | 7 | 1010 | 3.8 |
---
---
Write your message here and send it to us