Product Detail
plastic recycling and granulating machine
lithium battery recycling equipment
Product Tags
FAQ
1.PPR can be used for floor heating, residential and industrial central heating, industrial transportation (chemical liquids and gases), drinking water transportation, special applications, hot and cold water transportation.
Advantages:
The extruder screw adopts L/D=38, double mixing head, separated structure, making the melt material plastic by 100% before entering the touch head. Open spiral groove at feed end to increase yield by 30%
The mold head adopts spiral design without hysteresis phenomenon, which can greatly improve the quality of pipe materials. Fixed sleeve is a special disc design, the guarantee of high speed extrusion pipe
Double vacuum box is completely independent control and operates as convenient as single line
The dual tractor is completely independent control, as convenient for operation as a single line, with the upper track limit device, which can ensure the roundness of the pipe.
Double cutter is chip-free cutting with completely independent control and easy to operate.
Main parameter:
Model

60/38

75/38

90/38

120/38

Application

Raw material

Maximum capacity

Water supply and gas

PE

500

650

1100

1350

Antistatic coating

PR-RT

400

600

1000

1200

Pipe fitting

PPR

350

520

800

1100

Drainage and Sewage

PP

350

520

800

1000
2.PVC pipe
Application: pressure water pipe, sewage pipe system, drainage pipe system, electrical appliances and telecommunications engineering pipeline
Main technical parameters
| | | | | | | | |
| --- | --- | --- | --- | --- | --- | --- | --- |
| Pipe diameter | 16-40double pipes | 16-63double pipes | 50-160 | 75-250 | 110-315 | 160-450 | 315-630 |
| Conical twins crew extruder | SJZ51/105 | SJZ65/132 | SJZ65/132 | SJZ65/132 | SJZ80/1156 | SJZ80/156 | SJZ92/188 |
| Main motor(kW) | 18.5AC | 37AC | 37AC | 37AC | 55AC | 55AC | 110AC |
| Maximum capacity | 100-120 | 280-350 | 280-350 | 280-350 | 400-550 | 400-550 | 700-800 |

PE pipemaking machine 1

PE pipe making machine 2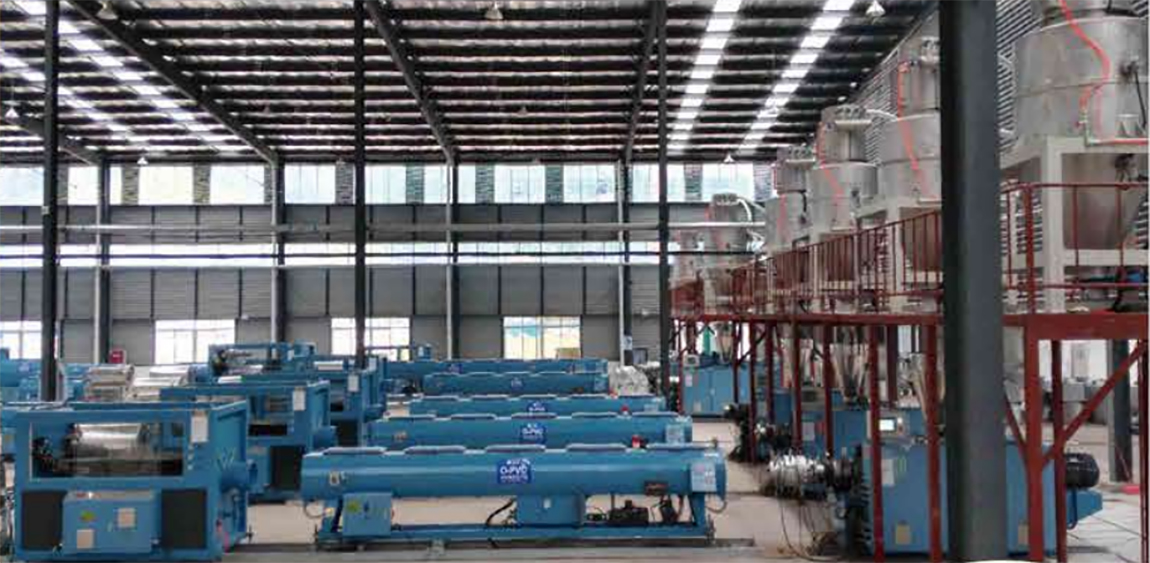 PVC pipe making machine
---
---
A plastic recycling and granulating machine is a type of equipment used to recycle plastic waste into granules or pellets that can be reused in manufacturing new plastic products. The machine typically works by shredding or grinding the plastic waste into small pieces, then melting and extruding it through a die to form pellets or granules.
There are different types of plastic recycling and granulating machines available, including single-screw and twin-screw extruders. Some machines also include additional features such as screens to remove impurities from the plastic waste or cooling systems to ensure the pellets are solidified properly. PET bottle washing machine, PP woven bags washing line
Plastic recycling and granulating machines are commonly used in industries that generate large amounts of plastic waste, such as packaging, automotive, and construction. By recycling plastic waste, these machines help reduce the environmental impact of plastic disposal and conserve resources by reusing materials that would otherwise be discarded.
Lithium battery recycling equipment is a type of equipment used to recycle and recover valuable materials from lithium-ion batteries, which are commonly used in electronic devices such as smartphones, laptops, and electric vehicles. The equipment typically works by breaking down the batteries into their constituent parts, such as the cathode and anode materials, electrolyte solution, and metal foils, and then separating and purifying these materials for reuse.
There are different types of lithium battery recycling equipment available, including pyrometallurgical processes, hydrometallurgical processes, and mechanical processes. Pyrometallurgical processes involve high-temperature processing of the batteries to recover metals such as copper, nickel, and cobalt. Hydrometallurgical processes use chemical solutions to dissolve the battery components and recover metals, while mechanical processes involve shredding and milling the batteries to separate the materials.
Lithium battery recycling equipment is important for reducing the environmental impact of battery disposal and conserving resources by recovering valuable metals and materials that can be reused in new batteries or other products.
In addition to environmental and resource conservation benefits, lithium battery recycling equipment also has economic benefits. Recovering valuable metals and materials from used batteries can reduce the cost of producing new batteries, as well as create new revenue streams for companies involved in the recycling process.
Furthermore, the increasing demand for electric vehicles and other electronic devices is driving the need for a more efficient and sustainable battery recycling industry. Lithium battery recycling equipment can help meet this demand by providing a reliable and cost-effective way to recover valuable materials from used batteries.
However, it's important to note that lithium battery recycling is still a relatively new industry, and there are challenges to overcome in terms of developing efficient and cost-effective recycling processes. Additionally, proper handling and disposal of battery waste is crucial to avoid environmental and health hazards. Therefore, proper regulations and safety measures must be in place to ensure the responsible handling and recycling of lithium batteries.
FAQ for PVC pipe line
Please answer below questions to offer providing  
1.Pipe performance
□UPVC pipe   □ SPVC pipe   □ CPVC pipe   □ Others
2.Application:
Final products will be used for:
□ Water supply   □ Water drainage or sewage   □ Cable   □ Others
3.Max. Caco3 percentage (PHR)
□ Less than 10 PHR   □ 20-50PHR   □ 50-100PHR   □ More than 100PHR
4.Layer structure
□ Monolayer
□ Two layers
□ Three layers
Please help to fill this pipe below:
| | | | |
| --- | --- | --- | --- |
| Layer | Material | Proportion | Note |
| A | | % | |
| B | | % | |
| C | | % | |
5.Pipe tolerance thickness
| | | | |
| --- | --- | --- | --- |
| Pipe Dia. | Standand thickness | Tolerance | Note |
| | | | |
| | | | |
| | | | |
| | | | |
6.Output
□ Extrusion weight:   ____KGH * _____Working hours per day * ______Working days per year
□ Extrusion speed:    ____m/min
7.Business Scope
Index

BEIER

                    Buyer
Warehouse
×
1. Length*Width*Height: ____M*____M*_____MPillar positions, providing CAD drawing to BEIER

2. Ground floor flatness

3. Altitude of site:

□ up to 1000m(NN)

▽ higher than 1000m(NN), i.e. ………………..m(NN)

Water flow
×
1. Underground water channel or PVC pipelines & pumps?
Folk lift
×
1. loading capacity 3.5-5Ton
Electricity supply
Electric cabinet
1. Do you have enough capacity transformer to load all motors & office unities?2. Cable/wires from transformer to electric cabinet

3. Cable/wires from electric cabinet to each motor

4. Voltage:

Drive cabinet supply: 3 Phase _____V ____Hz

Control cabinet supply:  ______V _____Hz

Voltage fluctuation:

□ up to max ± 10%  ○ up to max ± 15%  ▽ over ± 15%,
8. Infrastructure Status
Climatic condition             Ambient temperature                  max. relative humidity
| | | |
| --- | --- | --- |
| □ moderate | up to 35 ℃ | 70% |
| ▽ dry/warm | up to 40 ℃ | 40% |
| ▽ dry/hot | over to 40 ℃, i.e. ……………….. ℃ | 40% |
| ▽ humid/warm | up to 40 ℃ | 90% |
| ▽ humid/hot | over to 40 ℃, i.e. ……………….. ℃ | 90% |
 FAQ for HDPE pipe line
Please answer below questions to offer providing  
1.Raw Material
□ Borouge   □ Sabic   □ Sinopec   □ Others
2.Color stripe lines
□ one line   □ two lines   □ four lines   □ six lines   □ eight lines
3.Layer structure
□ Monolayer
□ Two layers
□ Three layers
□ Four layers
Please help to fill this pipe below:
| | | | |
| --- | --- | --- | --- |
| Layer | Material | Proportion | Note |
| A | | % | |
| B | | % | |
| C | | % | |
| D | | % | |
4.Pipe tolerance thickness
| | | | |
| --- | --- | --- | --- |
| Pipe Dia. | Standand thickness | Tolerance | Note |
| | | | |
| | | | |
| | | | |
| | | | |
5.Output
□ Extrusion weight:   ____KGH * _____Working hours per day * ______Working days per year
□ Extrusion speed:    ____m/min
6.Application:
Final products will be used for:
□water supply □ water drainage or sewage □ Gas pipe □ Irrigation pipe
7.Business Scope
Index

PURUI

                    Buyer
Warehouse
×
1. Length*Width*Height: ____M*____M*_____MPillar positions, providing CAD drawing to BEIER

2. Ground floor flatness

3. Altitude of site:

□ up to 1000m(NN)

▽ higher than 1000m(NN), i.e. ………………..m(NN)

Water flow
×
1. Underground water channel or PVC pipelines & pumps?
Folk lift
×
1. loading capacity 3.5-5Ton
Electricity supply
Electric cabinet
1. Do you have enough capacity transformer to load all motors & office unities?2. Cable/wires from transformer to electric cabinet

3. Cable/wires from electric cabinet to each motor

4. Voltage:

Drive cabinet supply: 3 Phase _____V ____Hz

Control cabinet supply:  ______V _____Hz

Voltage fluctuation:

□ up to max ± 10%  ○ up to max ± 15%  ▽ over ± 15%,
8. Infrastructure Status
Climatic condition             Ambient temperature                  max. relative humidity
| | | |
| --- | --- | --- |
| □ moderate | up to 35 ℃ | 70% |
| ▽ dry/warm | up to 40 ℃ | 40% |
| ▽ dry/hot | over to 40 ℃, i.e. ……………….. ℃ | 40% |
| ▽ humid/warm | up to 40 ℃ | 90% |
| ▽ humid/hot | over to 40 ℃, i.e. ……………….. ℃ | 90% |
---
Write your message here and send it to us