PP PE Film Recycling Extruder Machine with Shredding Agglomerator
Product Detail
plastic recycling and granulating machine
lithium battery recycling equipment
Product Tags
FAQ
PP PE film recycling extruder machine with shredding  agglomerator/cutter compactor
Processing Material Pictures: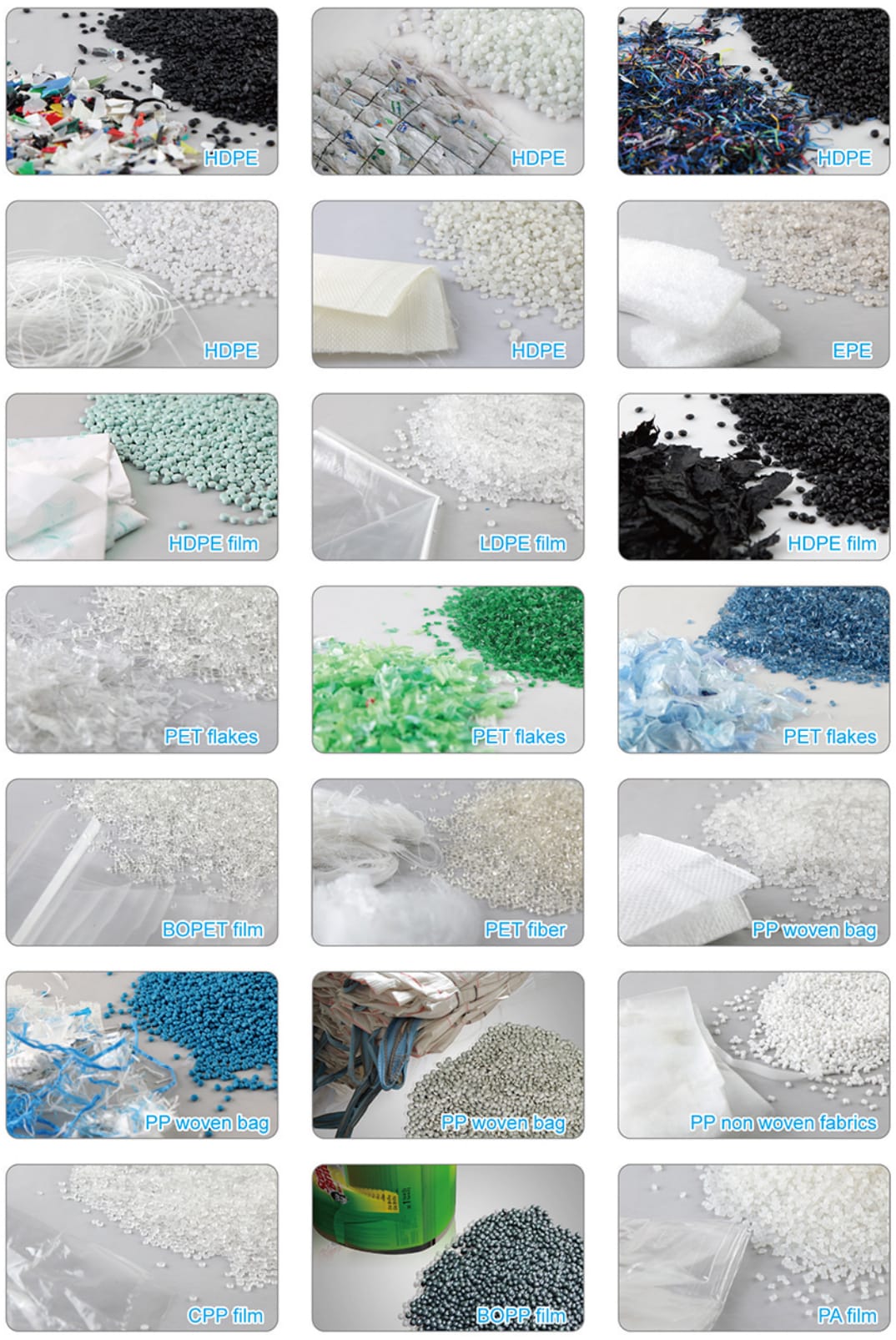 Processing Material:
HDPE, LDPE, LLDPE, PP, such like films, bags, flakes, film rollers, stretch film, shrink film, multi-layer film, T-shirt bag cut-offs
Foamed PE, EPS and XPS: rolls, bag, sheet, food container, fruit net , cover
Textile: PP fiber, raffia, silk, yarn, woven bag, jumbo bag
Features:
This compactor integrated pelletizing system benefits recycled material without pre-cutting
Compacting get equipped with cutter valves, which used for control material feeding speed
Vacuum system to exhaust water or gas at large extent
Excellent hydraulic screen filter with stable pressure for non-stop, no-leaking
Power saving with high output (0.28kwh/kg)
General working process:
1.Belt conveyor transfer material into shredding compactor.
2.The interlock control system between belt convey to and shredding compactor ensure balance feeding without melted compactor.
3.At the bottom of shredding compactor, there is one cutter board. with centrifugal force, recycled material get pre-cut by inside rotary cutters and stationary cutters.
4.After that, material goes into degassing screw from side of compactor.
5.With screw heating, plastic becomes semi-plastification material.
6.And then, semi-plastic material get cut into pellets.
Main Technical Parameter:
Model
ML75
ML85
ML100
ML130
ML160
ML180
Screw diameter(mm)
75
85
100
130
160
180
L/D
26 to 37
Output(kg/h)
100-180
180-250
250-350
500
600-800
1000
Machine Pictures:
Single screw extruder


Double stage recycling extruder

General Information:
| | |
| --- | --- |
| Model name | ML |
| output | Plastic pellets/granules/resins/plastic raw material |
| Machine parts | Belt conveyor, cutter compactor, main extruder, pelletizing unit, cooling system, silo, cabinet |
| Recycling material | PP/PE/LDPE/HDPE film, bag, fiber |
| Capacity range | 100kg/h to 1200kg/h |
| Feeding way | Conveyor, roll driving system |
| Screw diameter | 75mm to 200mm |
| Screw L/D | 26 to 33 |
| Screw raw material | 38CrMoAl or bimetallic |
| degassing | Natural degassing, vacuum degassing |
| Cutting type | Vertical pelletizing way, pull strip pelletizing |
| Cooling type | Water cool, air cool |
| voltage | Customized |
| Optional devices | Metal detector, water cooling system, feeding silo, vibration system |
| Delivery time | 40 to 60 days |
| Warranty time | 13 months |
| Technical supports | Machine layout, installation layout, engineer oversea service |
| Certificate | CE/ SGS/ TUV/CO |
Why choose us?
A.PURUI has professional manufacturer since 2006. we have our own technical design department. Each extruder get designed according to material feature.
B.Power saving with high output
C.Quality guaranty time is 12 months since the Bill of Lading date.
D.Delivery time: 40 work days to 60 days
E.Ship requested package
F.Machine installation is aboard available. It takes about 5 to 7 days with completing one time of installation. The assigned engineer(s) manage the machine user training, machine operation and commission.
Company Introduction:
Chengdu PuRui Polymer Engineering Co. Ltd is one of the leading manufacturers of plastic recycling machines, extruder, plastic granulator and related auxiliary equipment in China. Our plastic pelletizing system's unique advantages are screw design, high output, good degassing and good filter effect. Our plastic washing line such as crusher with bearable resistance and sharp cutter, washing units, separating or sorting machine, drying system, and packaging system are of sound quality.
---
Previous:
PVC pipe making machine
Next:
18 Years Factory China Recycling Machine Cardboard Shredder Plastic Paper Shredding Machine Cross Cut Textile Shredder
---
A plastic recycling and granulating machine is a type of equipment used to recycle plastic waste into granules or pellets that can be reused in manufacturing new plastic products. The machine typically works by shredding or grinding the plastic waste into small pieces, then melting and extruding it through a die to form pellets or granules.
There are different types of plastic recycling and granulating machines available, including single-screw and twin-screw extruders. Some machines also include additional features such as screens to remove impurities from the plastic waste or cooling systems to ensure the pellets are solidified properly. PET bottle washing machine, PP woven bags washing line
Plastic recycling and granulating machines are commonly used in industries that generate large amounts of plastic waste, such as packaging, automotive, and construction. By recycling plastic waste, these machines help reduce the environmental impact of plastic disposal and conserve resources by reusing materials that would otherwise be discarded.
Lithium battery recycling equipment is a type of equipment used to recycle and recover valuable materials from lithium-ion batteries, which are commonly used in electronic devices such as smartphones, laptops, and electric vehicles. The equipment typically works by breaking down the batteries into their constituent parts, such as the cathode and anode materials, electrolyte solution, and metal foils, and then separating and purifying these materials for reuse.
There are different types of lithium battery recycling equipment available, including pyrometallurgical processes, hydrometallurgical processes, and mechanical processes. Pyrometallurgical processes involve high-temperature processing of the batteries to recover metals such as copper, nickel, and cobalt. Hydrometallurgical processes use chemical solutions to dissolve the battery components and recover metals, while mechanical processes involve shredding and milling the batteries to separate the materials.
Lithium battery recycling equipment is important for reducing the environmental impact of battery disposal and conserving resources by recovering valuable metals and materials that can be reused in new batteries or other products.
In addition to environmental and resource conservation benefits, lithium battery recycling equipment also has economic benefits. Recovering valuable metals and materials from used batteries can reduce the cost of producing new batteries, as well as create new revenue streams for companies involved in the recycling process.
Furthermore, the increasing demand for electric vehicles and other electronic devices is driving the need for a more efficient and sustainable battery recycling industry. Lithium battery recycling equipment can help meet this demand by providing a reliable and cost-effective way to recover valuable materials from used batteries.
However, it's important to note that lithium battery recycling is still a relatively new industry, and there are challenges to overcome in terms of developing efficient and cost-effective recycling processes. Additionally, proper handling and disposal of battery waste is crucial to avoid environmental and health hazards. Therefore, proper regulations and safety measures must be in place to ensure the responsible handling and recycling of lithium batteries.
Write your message here and send it to us