TSSK series is Co-rotating double/Twin screw extruder
Product Detail
Product Tags
FAQ
TSSK series is Co-rotating double/Twin screw extruder

More powerful gearbox, more precise screw elements endow TSSK more flexible processing range and wider operation window. We also provide individual solution according to customized requirements. Variety of modular screw elements, barrels, melt filtration and pelletizing system will get the most out of your investment.
Technical characteristics:
High torque: Carrying capacity factor of gearbox>=13
High precision:Run-out accuracy of the output-shaft keep constant,which guarantee small screw clearance
High service life: Designed service life of gearbox is 72000hrs
High speed: Max. 1800rpm
High quality: small clearance reduce material leakage and back-flow, residence time in barrels and excessive shear.
High efficiency: Output is 2-3 times larger than the same size extruder from other domestic manufacturers.
Convenient operation: PLC touch screen with clear operation interface, simple and convenient system operation, integrate the auxiliary control on interface.
Diversity of processing materials: wide speed range can meet kinds of producing different materials, including Crystalline materials, organic dye products, pull film products.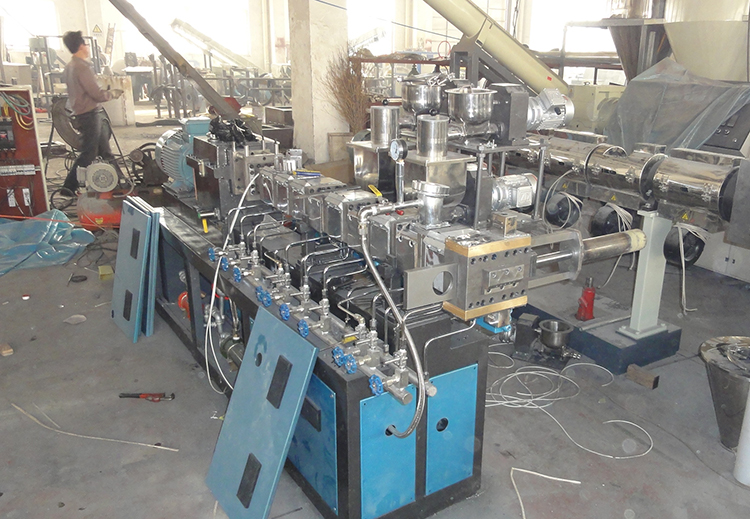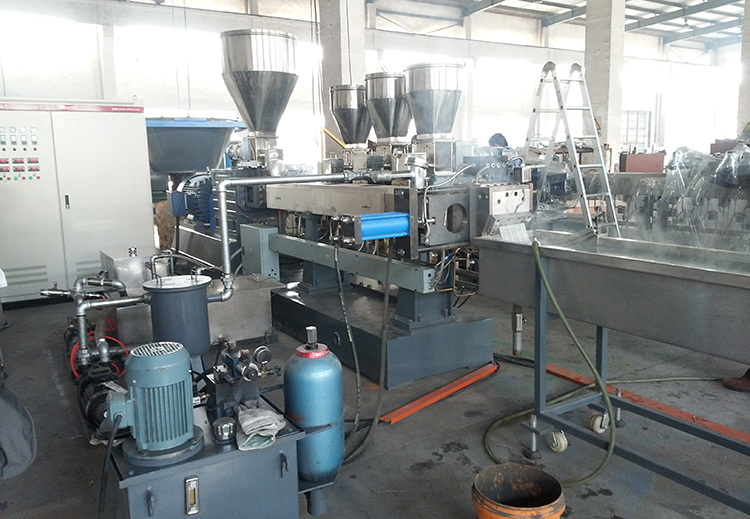 Application:
Filling modification: caco3/talcum powder/Tio2/other inorganic filler
filling modification are used in injection, blow-moulding, film(One layer or Multiple layer), sheet and tapes applications
Reinforce modification: long or short glass fiber/carbon fiber
Preparation of master batch: carbon black master-batch/color master batch/other special functions master batch
Three types of Color masterbatch :
1)Mono color masterbatch or SPC (single pigment concentrate): polymer compounding with one single pigment and mostly without the wax and additive
2) Tailor-Made masterbatch or Custom coloring: mixing different Mono color masterbatch pellets to get the color the customer wants
3) Customized masterbatch: mix polymer and several pigment and additives
Blending modification: thermoplastic material/Elastomer
Cable material: PVC cable material/Zero halogen cable material/special cable material
Technical parameter:
| | | | | | | | |
| --- | --- | --- | --- | --- | --- | --- | --- |
| model | TSSK-20 | TSSK-30 | TSSK-35 | TSSK-50 | TSSK-65 | TSSK-72 | TSSK-92 |
| Screw diameter(mm ) | 21.7 | 30 | 35.6 | 50.5 | 62.4 | 71.2 | 91 |
| Rotary speed(RPM) | 600 | 400 | 400/600 | 400/500 | 400/500 | 400/500 | 400/500 |
| Motor power(Kw) | 4 | 11 | 11/45 | 37/45 | 55/75 | 90/110 | 220/250 |
| L/D | 32-40 | 28-48 | 32-48 | 32-48 | 32-48 | 32-48 | 32-40 |
| Capacity (Kg/H) | 2-10 | 5-30 | 10-80 | 20-150 | 100-300 | 300-600 | 600-1000 |
---
---
Write your message here and send it to us