Lead acid battery recycling machine and sorting machine
Product Detail
Product Tags
FAQ
Introduce
The working principle of the waste lead storage battery crushing and separating system is that the storage battery is crushed by a crusher, the crushed fragments are cleaned by a vibrating screen, lead mud is washed away, the cleaned fragments enter a hydraulic separator and are separated by utilizing the characteristics of different specific gravity of materials, and the separated battery plastic fragments and a lead grid pass through screw conveyor output systems from different outlets of the hydraulic separator.
The specific process is to break the waste lead-acid battery to pieces less than 100mm through the knife edge on the hammer head of the crusher and then enter the vibrating screen, in which a plurality of water spray nozzles are arranged, and the materials are fully cleaned under the double action of water power and vibration.
Lead mud in the battery debris is flushed into the lead mud precipitator through the mesh of the sieve plate, and flocculating agent in an appropriate proportion is added into the lead mud precipitator to promote flocculation and sedimentation of the lead mud, so that a scraper in the lead mud precipitator is convenient to convey to a lead mud stirring tank, then lead mud in the tank is conveyed to a filter press through a lead mud conveying pump, and lead paste is formed after pressure filtration, and the lead paste can be conveyed to a pre-desulfurization system for continuous treatment.
At the same time, polypropylene, heavy plastic and lead grid separated after vibration cleaning are sent to the hydraulic separator by the vibrating screen. Due to the different specific gravity of the materials, the above three materials are sent out from the upper, middle and lower outlets respectively after being separated by the hydraulic separator. In order to ensure the thorough cleaning and separation of various materials, the system carries out secondary cleaning and separation of materials, thus ensuring the cleaning and separation effects of various materials.
The system adopts full-screen monitoring, automatic control and high degree of automation. The main equipment adopts 316L stainless steel with good corrosion resistance. Acid liquor in the whole equipment forms an integral internal circulation system. In addition, acid mist dust removalpipelines are connected to the top of each main equipment in a toxic way, acid mist generated in the production process is pumped to an acid mist cleaning filter for cleaning and filtering, and is discharged into the atmosphere after reaching the standard through detection, thereby preventing air pollution and meeting environmental protection requirements.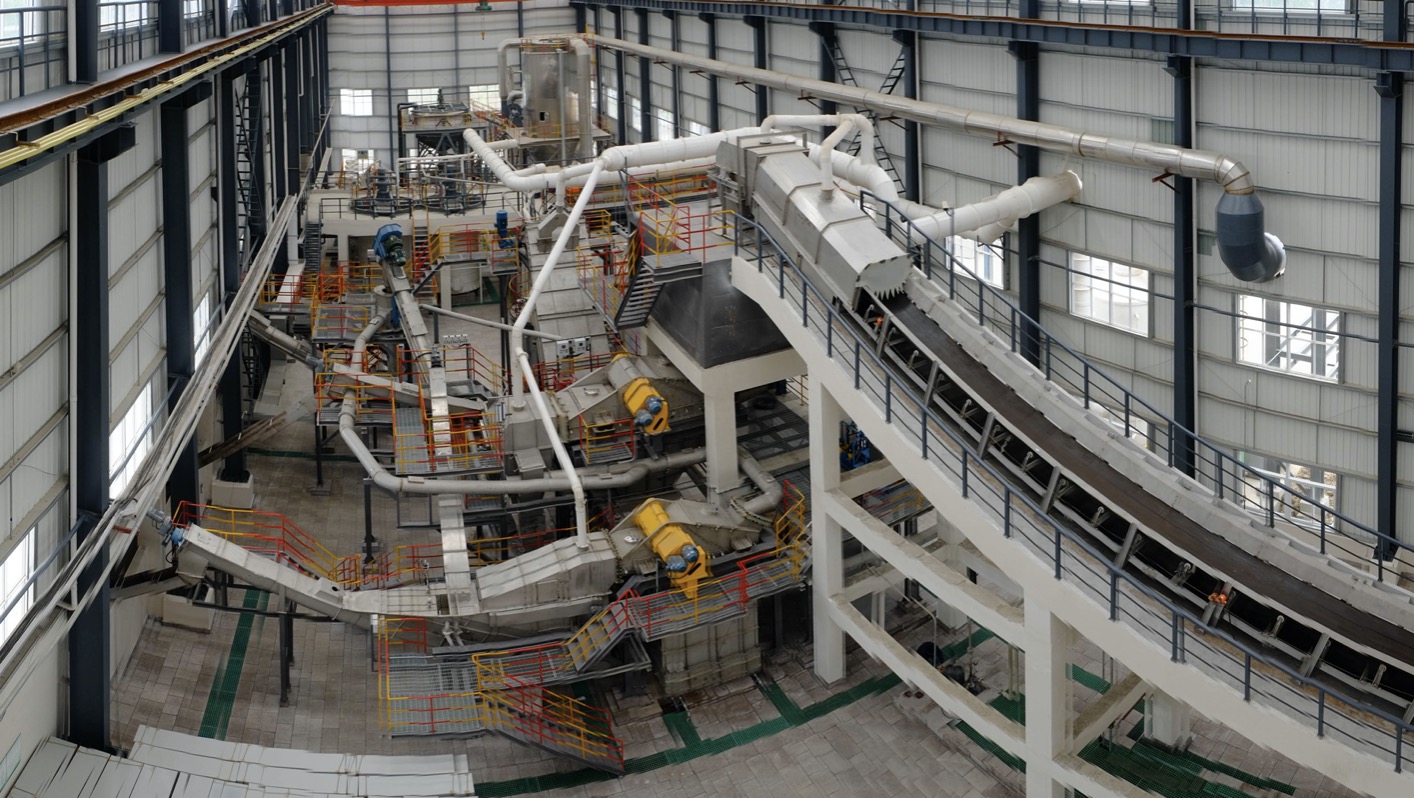 breaking and separation unit
| | | | | | |
| --- | --- | --- | --- | --- | --- |
| Serial numb er | Device name | Specification model | Quantit y Table/s et | Main material | Remarks |
| 1.1 | Vibrating feeder | ZG-1000-3000 | 1 | Q235-ALining 316L | P=2×3KW |
| | Attached: Weighing Device | 10T sensor | 4 | Hunan Jiangye | Changsha titanium alloy |
| 1.2 | Belt conveyor | JYPF05DB.16 | 1 | Leg 304/Q235idler 304 Belt Fluorine rubber | Belt width 800;P=4KW, fully enclosed |
| 1.3 | Magnetic iron remover | RCDD-10 | 1 | Q235-A | P=15KW |
| 1.4 | Crusher soundproof room | JYPF05DB.19 | 1 | Combinati on | |
| 1.5 | Crusher | JYPF05DB.1 | 1 | 316L/304 | 90KW, 20hammers, 4 air springs |
| 1.6 | Dilute oil lubrication station | XYZ-6 | 1 | Q235A | 2×0.75K W |
| 1.7 | Primary vibrating screen | JYPF05DB.2 | 1 | Liquid contact portion 316L,reinforcing ribs, legs, | Sieve plate 800x 800mm, quantity 3, p = 2 x |
1.8
Diaphragm
JYPF05DB.3
1
Liquid
filter
contact
portion
316L,
reinforcing
ribs, legs,
etc. 304
1.9
Primary
JYPF05DB.5
1
Liquid
Blade
lead grid
contact
diameter
screw
portion
Φ 280×
conveyor
316L,
10. shaft
reinforcing
diameter
ribs, legs,
Φ 127×
etc. 304
15,
P=7.5KW
1.10
Secondary
JYPF05DB.6
1
Liquid
Blade
lead grid
contact
diameter
screw
portion
Φ 280×
conveyor
316L,
10. shaft
reinforcing
diameter
ribs, legs,
Φ 127×
etc. 304
15,
P=7.5KW
1.11
Lead mud
JYPF05DB.10
1
Liquid
settling tank
contact
portion
316L,
reinforcing
ribs, legs,
etc. 304
1.12
Lead mud
JYPF05DB.11
1
Liquid
P=7.5KW
mixing tank
contact
V=10m3
portion
316L,
reinforcing
ribs, legs,
etc. 304
1.13
Filtrate tank
JYPF05DB.12
1
PP
V=10m3
1.14
Hydrodyna mic separator
JYPF05DB.15
1
316L
1.15
Horizontal screw conveyor
JYPF05DB.22
1
Liquid contact portion 316L,reinforcing ribs, legs, etc. 304
Blade diameter Φ 275× 8diameter of axle φ108×8 P=5.5KW
1.16
Neutralizatio n tank
JYPF05DB.23
1
Liquid contact portion 316L,reinforcing ribs, legs, etc. 304
P=11KW
1.17
buffer tank
JYPF05DB.24
1
Liquid contact portion 316L,reinforcing ribs, legs, etc. 304
P=3KW
1.18
Acid filter
JYPF.0TB702
2
316L

One for standby and one for use

1.19
cooling water tank
JYPF.0TB1102
1
PP
Second, the acid mist dust removal part
2.1
Spray purification
JYPF05DB.31
Hunan Jiangye
1
PP
φ2600*60 00
2.2
Induced draft fan
4-52-B
1
Glass fibre reinforced plastics
Fan motor P=22KW
2.3
liusuan pump
60FS-35
1
Plastic lining
2.4
Smoke exhaust window
JYPF
1
PP
H≤25m
Three, all kinds of acid pump
3.1
Water separation pump
Q=60m³/h, H=11m
1
Overcurren t section 316L
Xin Jiuyang
3.2
Acid circulating pump
Q=25m³/h, H=50m
1
Overcurren t section 316L
Xin Jiuyang
3.3
Filtrate transfer pump
Q=30m³/h, H=30m
2
Overcurren t section 316L
Xin Jiuyang
3.4
Lead mud transfer pump
Q=25m³/h, H=58m
3
Overcurren t section CD4MCu
Xin Jiuyang
3.5
Submerged sewage pump
Q=10m³/h, H=20m
1
Overcurren t section 316L
Xin Jiuyang
3.6
cooling water pump
Q=4m³/h, H=52m
2
The overcurrent section 304
Xin Jiuyang
Four, stairs, pipeline platform
4.1

All kinds of connecting pipes

1
A. acid and lead mud pipelines
316L、PP
Including instrumen ts and meters Automatic manual valve
B. acid mist pipeline
PPR/PP
C.pneumatic and cooling water piping
304
Including instrumen ts and meters Automatic manual valve
4.2
Platforms, stairs, railings, Some equipment supports
1
Painted Q235B
Five, electrical control system
5.1
GCK power control cabinet
Width × Depth× Height 800×1000×2200
4.
Combinati on
5.2
programma ble logic controller
Width × Depth× Height 1600×800×2200
1
Combinati on
Siemens 1200Series
5.3
IPC
IPC-
1 set
Yanhua
610L/FSP250-70PSU/EBC- MB06G2/I5- 2400/8G/SSD240G
5.4
Wire and cable
1 batch
Gold Cup, Constant Flying (copper core national standard cable)
5.5
Sensor
1 batch
Changsha titanium alloy
5.6
Cable tray
1 batch
Spray plastic
5.7
Video surveillance system
1 set
Combinati on
5.7.1

Liquid crystal display

46 inches
4 yuan
Samsung or equivalent
5.7.2
Desktop managemen t computer
Dual-core G3250,4G,21.5 inches
1 set
Dell or equivalent
5.7.3
Hard disk video recorder
DS-7716N-I4
1 set
Haikang or equivalent brand
Six, filter pressing part
6.1
plate and frame filter press
50m²
3
Jingjin
6.2
Squeeze pump
Q=10m³/h, H=120m
2
The overcurre nt section 304
Xin Jiuyang
6.3
Squeeze water tank
JYPF.0TB1401
1
PP
Seven, after-sales service
7.1
Production training
7.2
Operation and maintenanc e training
7.3
Installation and commission ing
---
Next:
PVC pipe making machine
---
Write your message here and send it to us